Contact GROSSWEBER
We love Community and Open Source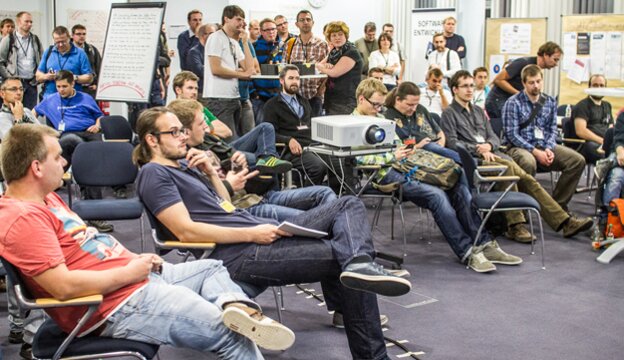 Perfectionists, Inventors, Improvers
See the difference that experience and bright minds can offer over vendor courseware. Here at GROSSWEBER, the training was developed based on the continuing results of our own consulting experience, so that your solution is customized to your specific needs.
We start with your vision, and bring it to life. For example, when faced with the task of visualizing a computing center with Windows Presentation Foundation technology, we will make sure that your vision is realized. From our consulting and project work experience, we have, and continue to, extract and develop our training programme. Trainings that are conducted by GROSSWEBER include only the most essential and proven topics, which is further enhanced by community feedback. We engage with our customers and courageously examine the status quo. We seek to help change and shape perspectives, in such a way, that solutions become pragmatically clear.
Most vendor courseware comes with a specific function that is not easily adapted to your unique business situation, and is often presented without the practical experience that is necessary. For these reasons we have chosen not to use vendor-specific materials, but instead mold our training from the direct results of our hands-on consulting experience.
Contact our Headquarter
GROSSWEBER
Groß, Weber & Partner
Diplom-Ingenieure / Diplom-Wirtschaftsinformatiker
Nordstraße 3 - 15
04105 Leipzig
Germany
hello@grossweber.com
Tel: +49 341 392816250
Fax: +49 341 392816259
If you wish to reach us in English, please call our office at: +49 341 392816251
Our technical and sales staff are available by telephone during the weekday business hours, 9:00-17:00 Central European Time (UTC/GMT +2 hours, compare current times in cities worldwide).
Lesen Sie diesen Artikel auf Deutsch.
Google Maps: grossweber.com/maps
Facebook: facebook.com/grossweberundpartner
LinkedIn: linkedin.com/company/grossweber
Pretty Good Privacy (PGP): Public Key
Twitter: @grossweber
YouTube: youtube.com/grossweber
Other Offices / Venues and Inhouse
The headquarters of GROSSWEBER is located in Leipzig, Germany. We would be pleased to arrange a meeting at your office (worldwide) or at one of our other venues, listed below. Many of our staff are fluent in a variety of languages, including English, German, French, Spanish, Russian, among others. This helps to ensure that communication between our firm and our clients will be smooth and problem-free.
Other venues of GROSSWEBER in Germany
Berlin
Dresden
Frankfurt am Main
Hamburg
Hannover
Karlsruhe
Köln
Magdeburg
München
Stuttgart
Nach oben